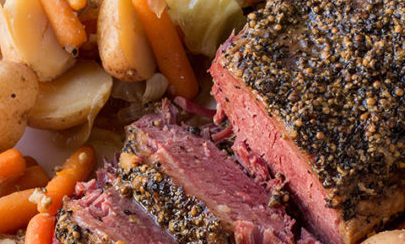 Pressure Cooker Corned Beef and Cabbage
So, I only made this because a friend asked me to cater a dinner that included it. But hey, turned out great!
Ingredients
3-lbs. flat cut Corned Beef Brisket
(4) Cups Beef Broth
(1) Lg Onion, quartered ( use Sweet Onion)
(8) Cloves of Garlic (I use minced from a jar)
(6) medium Red Potatoes, quartered
(3) Lg. Carrots
(3) Celery stalks
(1) Sm. Cabbage, cut into 6 wedges
HINT: Best advice ever! Throw away the seasoning pack that comes with the brisket. Go buy Pickling Spices. Yes, they are just in with regular spices.  Use them instead – fresher, better and yum.
Directions
Rinse the corned beef under cold water to remove excess salt and gel.  Place seasonings, beef broth, onion and garlic into the pressure cooker. Put in the rack and place corned beef in pot.
Lock the lid in place. Select high pressure and set timer for 90 minutes. When beep sounds, turn off pressure cooker. Use natural pressure release for 10 minutes, and then do a quick pressure release to release any remaining pressure. When valve drops carefully remove the lid.
Remove the rack and corned beef from the pressure cooker. Cover the corned beef with foil to keep warm until ready to serve.
Add potatoes, carrots, celery and cabbage to broth in the pressure cooker. Lock the lid in place. Select high pressure and set timer for 3 minutes. When beep sounds, turn off pressure cooker and do a quick pressure release to release pressure. When valve drops carefully remove lid. (check the potatoes to make sure they are tender enough. If they need to cook more, select saute and cook until they are desired tenderness.)